The pictures will speak for themselves.
But of course, if you don't love shoes the way that I love shoes, you may not think the pictures say much at all. :)
So Monday evening I decided I would take upon the task of going through ALL of the shoes we have, sorting them, having the kids try them on, put aside nice shoes for giving away, and *GASP* throw out some of the more dated or worn pairs. I started with two large sterilite tubs of shoes and a huge planting bucket full as well (the planting bucket is aka Elijah's toy box - I'm not really sure how it became full of shoes in our move from PA, but somehow it did!)
These are the shoes from the planting bucket...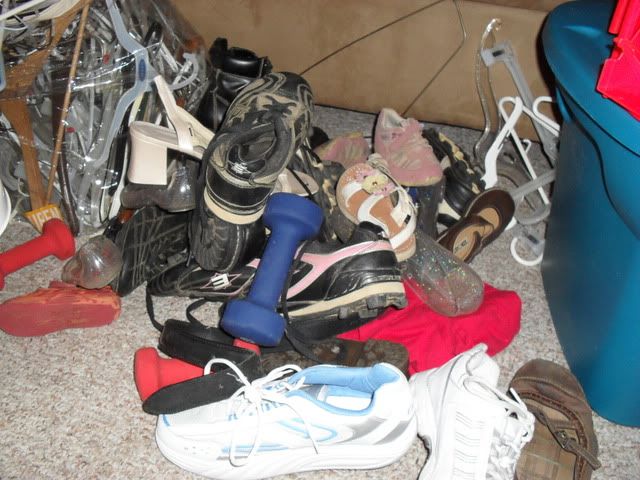 These are also from the bucket...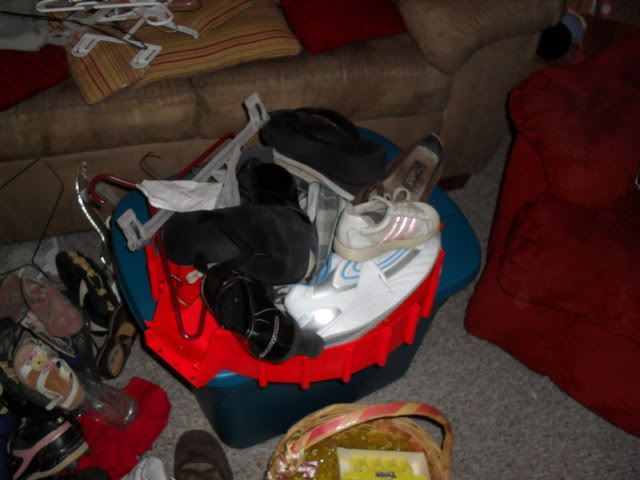 (Yes, there is an Easter basket in this picture. Simplifying and organizing is a process which is not instantly achieved!)
Here are the two tubs...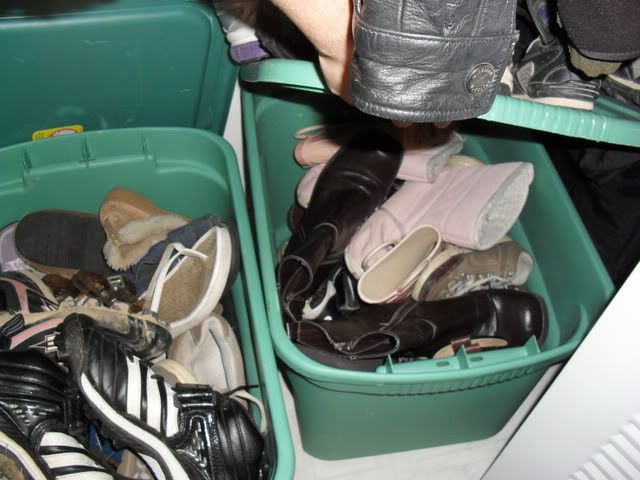 Ridiculous, yes?
err... don't forget the shoes on TOP of the tubs...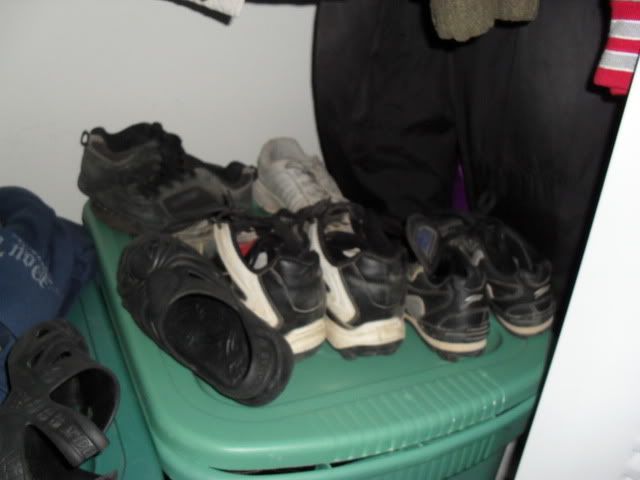 This is where it all began. I dumped the tubs on the floor (screamed at the spider hiding in the bottom of the one tub - and ran away - to which the husband replied "Aren't you holding a shoe? KILL IT!" I just don't do spiders. I don't squash. I don't stand around and wait to see what it will do next. I scream and I run.) So, yes, I dumped the tubs on the floor, sorted through the piles and ended up with three tubs of organized shoes (Elijah reclaimed his toy bucket.) One tub for cleats alone (three softball players, one football player, and one daddy who coaches results in many pairs of cleats), one tub for shoes which aren't currently in season/use, and one tub for shoes that are currently in season/in use. I'm going to leave the in season/use tub open in the entry closet, in hopes that the shoes will make it IN the tub and not clutter up the closet and entry floor. (One can hope!) In the past we've had monstrous shoe piles in our coat closets, maybe this will solve that?
The cleats...
The shoes not in season/use...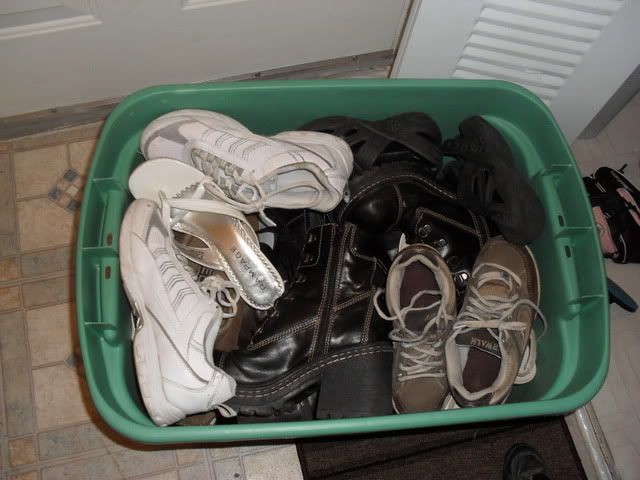 The tub that will be open in the closet - gosh I hope this works!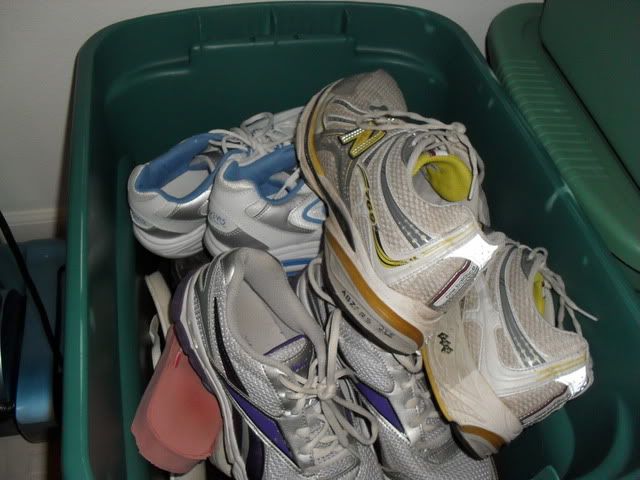 The finished project!
Sadly, there were causalities. One of the more tragic losses was this pair of brown Mudd shoes that I have loved dearly for the last few years. Aren't they pretty on?
The reason for their demise? Well, I feel like a hobo when I wear them! I adore them and wear them anyway, but much to the embarrassment of my teen/tween daughters! See what I am subjecting us all to?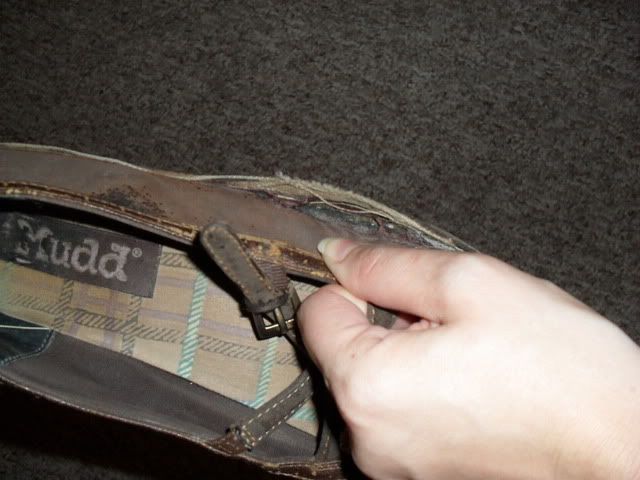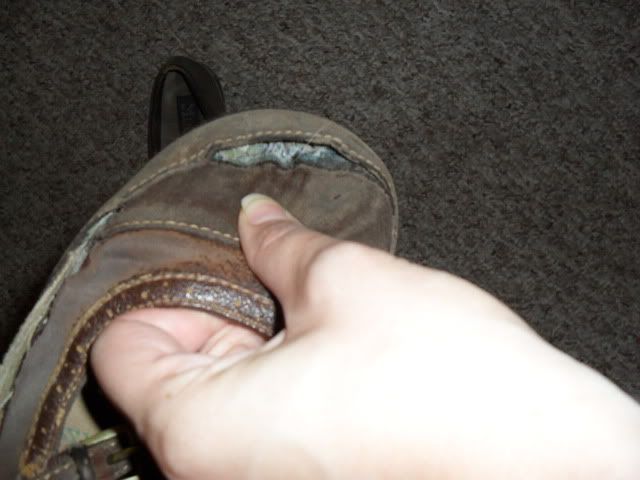 And here they lie among the other causalities (which includes broken flip-flops, sandals and boots whom have no mate, and old sneakers and sandals who are worn and ragged.)
There were some survivors who will go on to new homes, such as a brown pair of Mary Jane's, which each of my girls have worn and I just adore. I'm not sure just yet if I'll try to pass them on or if they'll end up at Goodwill. Either way, I'm sure they will make some little girl very happy. I didn't get pictures of these though - but I think this post is full of enough pictures as it is.
HOWEVER there is one last pair of shoes that I must showcase. I know, I know. This is supposed to be about simplifying, but there are a few things you will learn about me - one of those things is that when it comes to me and shoes, there is no such thing as simple.
So I have this super-fantabulous-knockout pair of shoes that I wore in a wedding several years ago. They are a light lilac shade of purple, have beautiful beading over them, and the heel... oh my word... the heel makes me swoon. I heart shoes, but these shoes... oh goodness. I heard the saying once that when a woman walks into a shoe store she will experience what is called a "shoe-gasm". Ladies, if this is true - well, this shoe does it for me. In fact, my husband and I have renamed these shoes my "do-me shoes"... I think I need not say more.
Swoon with me, if you will...
Are these shoes not HOTT?!?!?
*GASP* this heel!!!

~*~*~ INSERT HIGH PITCHED SQUEAL!~*~*~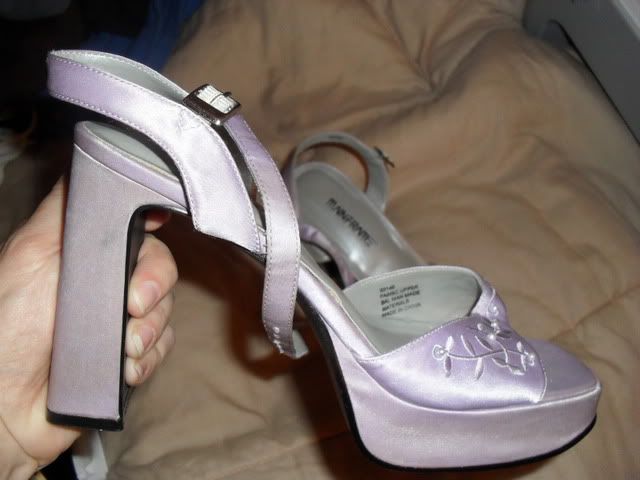 mmmm yes, I love me a good pair of shoes.
So see, this post has a happy ending. I may have lost the brown Mudd shoes, but these purple shoes give me hope for shoes to come.